February 2nd, 2009 Posted by Gavok
Hey, Dan Slott? You know how angry I was when you basically shat on the Juggernaut during your She-Hulk run?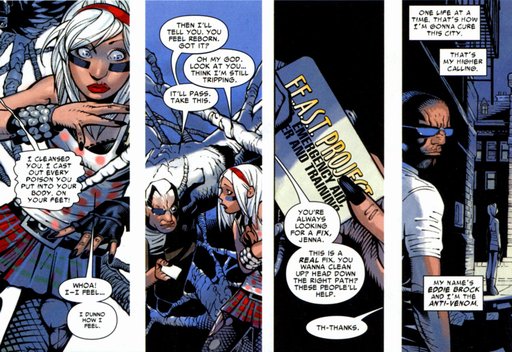 All is forgiven.
(note: I still boycott Amazing Spider-Man, but I've allowed myself to make exceptions for Eddie Brock appearances)
Welp. I'm back to this. It's been a while since the last We Care a Lot, so let's do a quick recap. It started off with me reminiscing about how I was introduced to Venom comics and how it led to this site. In the comics, Venom decided that Spider-Man wasn't so bad after all and they formed an agreement not to go after each other. That lasted for about five minutes. Then Venom went to San Francisco, where he teamed up with and/or fought Spider-Man, Punisher, Juggernaut, Hulk, Morbius, Mace and Vengeance. He then went back to New York City to get punked out by the Scarlet Spider. After dealing with his symbiote children and fighting Carnage inside the internet, Eddie Brock turned his wife into Venom for a few minutes and saved Christmas. All that and he made appearances in other comics.
All caught up? Good. Let's pick up where we left off with Rune vs. Venom, a one-shot by writer Chris Ulm and artists Greg Luzniak, Mark Pacella and Gabriel Gecko. So who is Rune and why does he get top billing? He's an alien vampire from Malibu's Ultraverse line. At the time, they were doing a series of Marvel/Ultraverse crossovers and this was one of them. Fair enough.