May 6th, 2010 Posted by david brothers
Grant Morrison, Andy Clarke, Scott Hanna, and Dustin Nguyen's Batman & Robin 12 reveals the identity of Oberon Sexton and sets up the next arc of Grant Morrison's Batman mega-story. That's nice and all, but what I dug most about the issue was something else entirely.
A preface: I'm not 100% sold on Batman & Robin. The art has been shaky when done by people not named Cameron Stewart or Frank Quitely. The story hasn't been hitting on all cylinders. I've talked about this with David Uzumeri, the #1 Batmannotations guy on the internet, because I was confused. I like Morrison. I like Batman. I like Damian. This should be clicking for me, but it wasn't. This issue, though, came the closest to the knock-your-socks-off spectacular I was expecting. And it wasn't because of Oberon Sexton. It was this scene: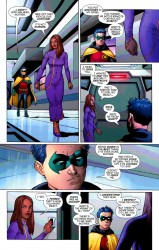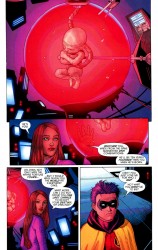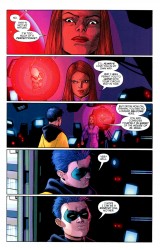 Maybe I'm a sucker for parental issues, but this is it. This is Morrison fully bringing Damian into the Bat-family and setting him on his path to be a hero. Batman began fighting crime as revenge on crime itself. Dick Grayson brought a much-needed light to incredible darkness. Tim Drake did it because Batman and Robin can never die. Babs Gordon did it because it was fun and because helping people is in her blood. Cassandra Cain did it as penance.
Damian, ten years old, just slightly older than his father was when he made a vow to avenge the death of his parents, has finally found a cause. His father, bleeding to death, said, "Yes. Father. I shall become a bat" and chose to honor his parents through his life's work. His mother raised him to be a killer and run roughshod over the world. His father, and his father's family, treated him with love and kindness. They treated him like a person. His mother is cold, distant, and considers him a tool.
Batman wants to fight crime. His biological son has a more focused target, a specific representation of crime. The son of the world's greatest detective and the heir to the world's foremost criminal empire has chosen a side: his father's side. Damian's cause is to be a worthy enemy for the daughter of the greatest criminal mastermind on the planet.
I also enjoyed this: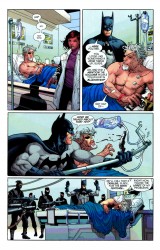 "You're nothing, old man. I can end you whenever I want to."
This is how you do fall-out from an event.