November 4th, 2007 Posted by Gavok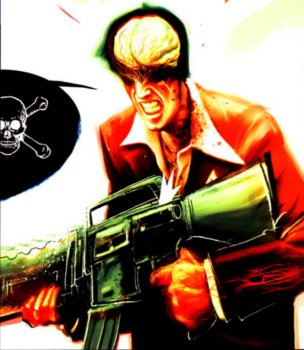 I honestly hadn't heard of this comic until I was futzing around with the graphic novel display at work. Glancing at it, I figured it was probably just some crap comic about Tony Montana prior to the movie's story. Then I saw that John Layman wrote it. I haven't read much of the man's work, but House of M: Fantastic Four was the best side-story to the House of M event and Marvel Zombies vs. Army of Darkness is the highlight of the entire Marvel Zombie experiment. That got me interested enough to read the back cover, where I discovered it was a sequel. Hey, why the hell not.
I should get this out of the way first: I'm not the biggest fan of the movie Scarface. It's been years since I've last seen it, but the problem for me that it was too long a movie to be carried by only one likeable character. Tony Montana is an awesome character, but he's the only thing the movie had going for it. None of the other characters did anything for me. I still respect the movie and wouldn't mind giving it another go one of these days.
But wait… Isn't Tony Montana dead? Didn't the movie end with the crazy gunfight where a coke-filled Tony got riddled with 500 bullets before being shot in the back by that Terminator-looking guy? Now, around the same time, a Scarface videogame called the World is Yours was released and dealt with this by going the What If route. Before he can get killed, Tony finds a passage to escape through, recuperates and plans his comeback. Scarface: Scarred for Life, on the other hand, is a comic book. Like Wilson Fisk and Barracuda, charismatic comic book mobsters have a talent for surviving the most insane maimings.