December 30th, 2006 Posted by Gavok

Sorry for being a week late. The holidays drained me faster than a three-way with Rogue and Parasite. …Please pretend I didn't just say that.
THE BEYONDER
Secret Wars II #1 (1985)
We start out with another iffy entry. The Beyonder was present during the first Secret Wars. That's obvious. It's just that at no point did he actually appear. That didn't happen until the horrifying sequel. We know him for his silly disco outfit, but that wasn't what he originally showed up in.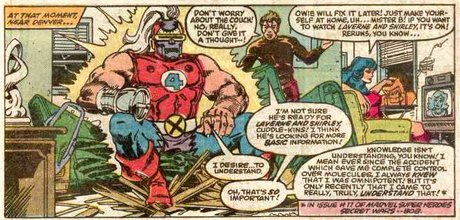 I like it. We see him talking with the Molecule Man, who tries to explain things to him in a way that is admirably calm and casual. Molecule Man and Volcana send Beyonder on his way as he takes a more subtle form on his quest for experience. This form is of Molecule Man himself. He proceeds to turn a desk into apples, turns a fat television writer into a super-villain and then turns invisible and follows Captain America around for the hell of it.