April 1st, 2011 Posted by Gavok
Currently, Sean McKeever and Filipe Andrade are releasing Onslaught Unleashed, the latest chapter in the saga of Marvel's sinister hybrid of Charles Xavier, Magneto, Juggernaut and Apocalypse. With the recent surge of popularity of this once-toxic property, it made me reflect on the recent comic miniseries Onslaught Reborn by Jeph Loeb and Rob Liefeld. I've always felt the need to talk about it, but never got around to it.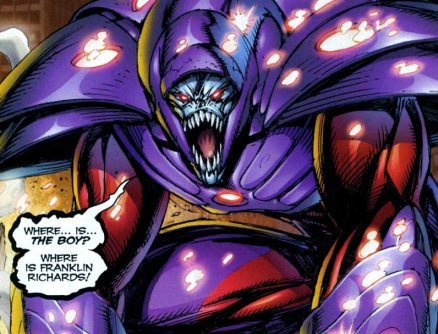 I rag on Jeph Loeb a lot. A LOT. A WHOLE. FREAKING. LOT. It was my bread and butter for a couple years, but with Onslaught Reborn, I can't continue that hate. It's no Long Halloween, but this comic is Jeph Loeb's best work in the past decade. There's no murder mystery, so that helps a lot. There's also a reason for there to be a big ensemble cast instead of adding in extra guys from all over for no reason.
Then again, the whole Earth/Counter-Earth thing boggles my mind. Didn't the Heroes Reborn characters stop existing or something when things returned to the status quo? I mean, I guess not, but in that one Thunderbolts storyline… No, I'm not falling down this rabbit hole. I have a review to write.
To catch you guys up on what's going on for this story: Onslaught was this big bad from the 90's created from Xavier mind-raping Magneto and gaining his powers and corruption. Once defeated by the team of Mega Man and Venom (with Arthur as their helper character), Onslaught turned into some kind of evil black hole fog thing and a bunch of superheroes sacrificed themselves like lemmings. Franklin Richards used his childhood omnipotence powers to create a second Earth on the other side of the sun where these dead heroes would live on in EXTREME recreations.
That brings us to our story, which takes place a day after House of M. As Scarlet Witch has removed the powers of most mutants, the mutant magic of Xavier and Magneto has merged together to recreate Onslaught as his own being. Now he's out to track down and I guess take over Franklin Richards. Franklin sneaks away to the Counter-Earth he created, where he meets the teenage girl version of Captain America's sidekick Bucky. He and all the heroes of Counter-Earth, as well as a couple villains, have to team up to take down Onslaught.