September 18th, 2007 Posted by Gavok
It's time for another six issues of random. Sorry it took so long. One of the issues was an 80 Page Giant and you know how those can be.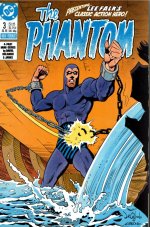 The Phantom #3
Year: 1988
Writer: Peter David
Artist: Joe Orlando
Synopsis: The Phantom is the ultimate legacy superhero; a mantle existing throughout the years under different members of a bloodline. To give balance, there is the Chessman bloodline, which has been antagonizing Phantoms for ages. This miniseries focuses on the modern-day battle between Phantom (the 21st one) and Chessman.
There are two parts to the issue. To delve deeper into the legacy picture, we read about the great, great, great, great, great, great grandfather of our main Phantom, Christopher "Kit" Walker. In a story transcribed by the 13th Phantom's son, the Phantom has been beaten by the Chessman Brothers and is locked up in a pirate ship. Not only that, but one of the brothers stole his badass skull ring. Due to desperation and being totally pissed, the Phantom breaks the chains that bind him, beats up a bunch of pirates, sinks their ship and is saved by some allies. The Chessmans get away.
As a nice touch, this old timey Phantom doesn't wear a domino mask, but rather has black paint or makeup splotched around his eyes.
He seeks out the Chessman that stole his ring and takes him on in a duel of swords. He steals his ring back, punches Chessman in the face, impales him with a dagger and tosses him out a window. That's a pretty full day.