August 31st, 2008 Posted by Gavok
Can you believe Infinite Crisis only ended a little over two years ago? It feels so much longer. At the time, it was an exciting time to read DC. A lot was going down, 52 was on the horizon, One Year Later was starting up, among other things. The miniseries did come off as a letdown, but considering how hyped it was, how could it be anything but? By the time the seventh issue landed, with its rushed art to meet the deadline, I couldn't be happier to be done with this whole storyline.
Sometime after, author Greg Cox wrote a novelization of Infinite Crisis. Such an odd concept, isn't it? A novelization of a comic book? It's like the literary version of hearing a country singer covering a rock group's hit song. I guess I shouldn't talk, since years back, before I was even into comics in the first place, I read the novelization of Knightfall. Plus there's the whole movie novelization thing I do for the sake of getting site hits.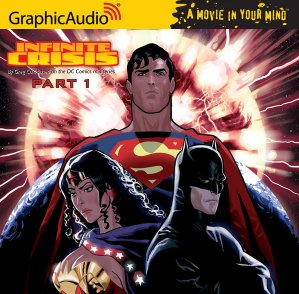 I didn't read Cox's take on Infinite Crisis, but through chance, I discovered an interesting piece relating to it. A company called Graphic Audio had done a book on CD version of his take. That's right, an audio book based on a book based on a graphic novel. What an insane concept. Too curious, I ordered the two sets and spent a couple weeks listening through them. Yes, weeks. The entire story is told with twelve discs over the course of thirteen hours. Thirteen hours to tell the story of seven issues.
Well, that's not fair. It's more than just the seven issues. Cox chose to cherry-pick tie-in issues to help pad out the story to differing success. This includes the end of Crisis of Conscience where Superboy Prime attacks Martian Manhunter, the Spectre vs. Shazam fight from the end of Day of Vengeance, the part of Gotham Central where Crispus Allen got killed, an issue of Aquaman and parts of the Rann/Thanagar War Special.