September 26th, 2006 Posted by Gavok
The new Marvel solicitations have been released, detailing the new What Ifs. One is based on Deadly Genesis, which doesn't interest me since I haven't read that yet. The other, which looks to be awesome, is Age of Apocalypse. This time, Legion did kill Magneto… but he also killed Xavier. Judging from the cover, this could be very interesting.
35) WHAT IF THE AVENGERS FOUGHT THE KREE-SKRULL WAR WITHOUT RICK JONES?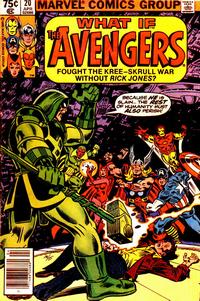 Issue: Volume 1, #20
Writer: Tom DeFalco
Artist: Alan Kupperberg
Spider-Man death: No
Background: I myself haven't read the Kree-Skrull War arc, but I get the gist of it from Wikipedia and the Watcher's introduction. It doesn't sound very good, all in all. The important parts to note are that the Super-Skrull had captured Captain Marvel, Scarlet Witch and Quicksilver with Captain America, Goliath (Pym), Iron Man, Thor and Vision off to save them. Rick Jones somehow got captured by some Kree guys as the Kree's fleet prepared to invade Earth. In the end, Rick met with the Supreme Intelligence, who betrayed the Kree. He stimulated Rick's mind so that he mentally projected memories of his childhood heroes (ie. the Invaders and the like) to beat up the Kree fleet. Sounds retarded, but it was the 70's. This version of the story is far better. There's a part of the original story where Rick Jones was brought before Ronan the Accuser. Rick stole a guard's staff and attacked Ronan, only to do no damage. Ronan noted Rick's courage and figured he'd make a good slave. In the Tom DeFalco version, Ronan is more pissed than amused and kills the boy with his cosmic hammer dealy. He calls for the fleet to make way to Earth and decimate it.