May 23rd, 2013 Posted by Gavok
160) X-Men vs. Street Fighter – JUGGERNAUT
1996
Apocalypse sure owes a lot to the X-Men cartoon from the 90's because for the longest time, he was considered THE top level threat of the franchise. You'd use Magneto as your go-to personal villain, but when you wanted to make things look extra dire, you'd toss in the seemingly-invincible guy who could turn himself into a giant. That last part made him a perfect boss for X-Men vs. Street Fighter.
Luckily, there's one guy out there who's just as unbeatable.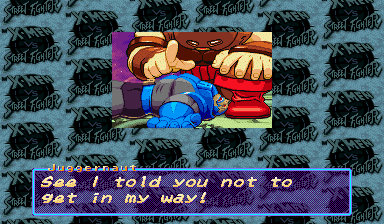 Juggernaut spends the entirety of his ending lecturing Apocalypse over underestimating him, especially in the brains department. He even brings up the time he outsmarted the Hulk. Granted, he's talking about when Hulk had Banner's intelligence and Juggernaut's plan was actually pretty clever. On the other hand, you aren't doing yourself any favors by saying you're smarter than a monster everyone knows as "the really dumb, green guy." Especially when you're telling this story to a mutant who isn't even conscious.
159) Samurai Showdown – HAOHMARU/GEN-AN
1993
These two endings complement each other, so I'm putting them together.
Haohmaru is the main hero of the Samurai Showdown series. After defeating the mad wizard Amakusa, he berates him for being a conceited fool. Oshizu, a woman who appears to be in love with Haohmaru, runs to him, but Haohmaru immediately tells her it's not to be. Despite the Engrish that appears throughout the series, Haohmaru says one of the cooler lines.
"I'm a samurai, a rebel guy."
So, having given his girlfriend the Pee-Wee Herman speech about being a loner, Haohmaru runs off to the next adventure. We see him raring for another fight.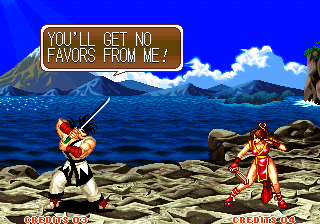 Where… he's… fighting Mai Shiranui? What in the Hell? It's weird enough that Eiji Kisaragi was professing his love for her in the 1970's, but what is she doing in feudal Japan? Is she immortal and SNK never brought it up? Regardless, the two banter and attack at the same time, ending on a Rocky III non-cliffhanger. Cool enough.
Gen-An is the game's freak character. A green monster with a giant Freddy Krueger claw. His ending is just like Haohmaru's, only not quite. He destroys Amakusa and boasts about it. Then a woman named Azami runs out to him. She's wearing tattered clothes like a cavewoman, with a bone in her hair. Gen-An leaves her and goes on to fight elsewhere.
Like Haohmaru, Gen-An gets in a scrap with a time-displaced Mai. The same dialogue plays out and they attack at the same time. Only here, they show the results. Mai lands a hit and Gen-An screams out for Azami.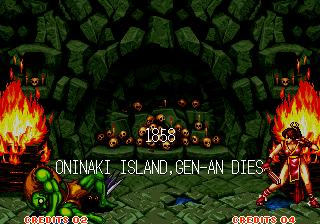 Oh. Welp. Sorry, Gen-An.