July 6th, 2007 Posted by Gavok

I took a long break from these babies to do the Wrestlecrap articles, but now I'm back with quite a collection of characters. Some are a bit topical, too.
CROSSBONES
Captain America #360 (1989)
The story of the issue is part of an arc called the Bloodstone Hunt. It involves Captain America and Diamondback taking on Baron Zemo, Batroc, Zaron and Machete over some gem. That part isn't really important.
Though I will say that Diamondback's appearance is sort of off-putting here. Her outfit is pink spandex with a series of black diamonds over her front and back. Considering she's in the water for most of the comic, she hangs around some people in bathing suits, and the way the pink is colored here, it looks like she's wearing a black thong that doesn't cover her chest. That's all well and good, but her costume is torn in places, so now it looks like she has some nasty-ass skin disease.
Anyhow, she and Cap get away with the prize. As they leave, we see that they're being watched.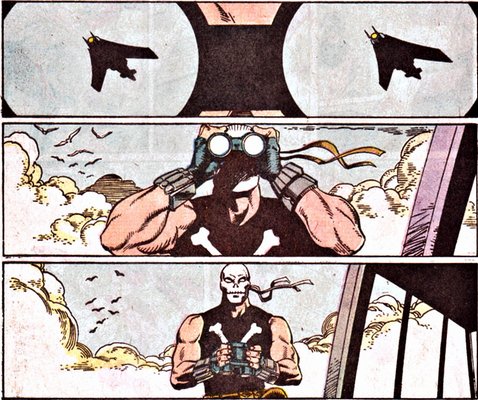 Crossbones is so cool.