July 1st, 2010 Posted by Gavok
He is the terror that flaps in the night. He is the hangnail that ruins your day. He is the milk that smells funny even though you just bought it two days ago. He is the duck who will fight for your honor. He is DARKWING DUCK!
And he's back!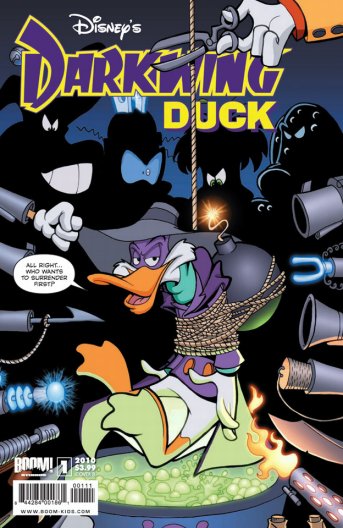 BOOM! Studios has been gangbusters with the various Disney comics, so it brings me great joy to see one of my favorite cartoons growing up has been brought back to the forefront. With words by Ian Brill and art by James Silvani, the billed vigilante was originally set to return in a four-issue miniseries, but now it's been stretched into an on-going. I picked up the first issue a couple weeks ago and it's definitely lived up to expectations.
Then David Brothers told me that he personally knows Ian Brill and since David still owes me for that time I saved his life during that whole bullfrog incident years back (don't ask), I called in that favor and had him put together this interview. Surprisingly, Ian agreed and questions and answers were had.
Now, then. Let's. Get. Physical.
…DANGEROUS! I meant to say DANGEROUS! God, why do I keep doing that?