February 11th, 2010 Posted by david brothers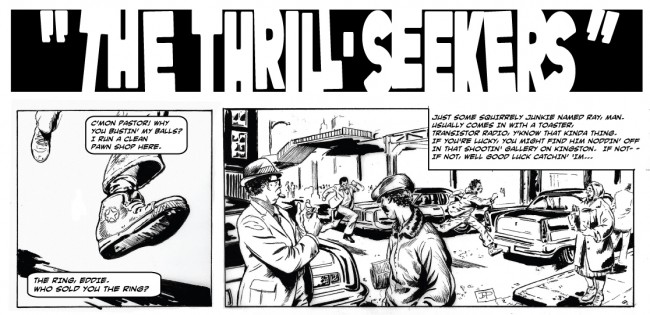 The nice thing about interviewing people is that sometimes they manage to school you. I thought I knew a little bit about blaxploitation, but Jay Potts, creator of
World of Hurt
, clearly has a PHD. I looked up some stuff, added others to my Netflix, and came out of this a better, more knowledgeable man. I figure you will, too. His dissection of who Luke Cage is- whoo. I hope Jeff Parker's going to be using that for his
Thunderbolts
run.
World of Hurt is, to put it simply, a Blaxploitation web comic. Isaiah Pastor is a good man who does bad things for good reasons. Really, that's all you need to know. The comic updates on Wednesdays and Jay generally has a good review or blog post each week, too. It's must-reading. Follow him on Twitter if you've got one.
The images in this post are the first six episodes of World of Hurt. They are, of course, the property, intellectual and otherwise, of Jay. If you like them, click over to the site and start reading weekly. If you'd rather read them on his site, check out the first episode here. The ones here are a little smaller than his, but if you click, they'll go big.
Finally, if Jay recommends some music or a movie? Get up on it asap. Trust me.
---
-Who is Jay Potts? I saw on your site that you went to SCAD. Did you focus on comics while you were there, or were you more interested in fine art or some other discipline?
Heh. I'm still trying to find out who 'Jay Potts' is! I'm a corporate paralegal by occupation, and artist by inclination. I enjoy politics and hiking. I have lovely, talented, smart fiancée named Noelle, a dog named Hoppie, and a black cat named Boo. Amongst the three, I'm not sure who's my biggest fan. 
I started out in the graduate program in Illustration at SCAD, but I quickly transitioned to Sequential Art. Until going to SCAD, I was self-taught, so I was introduced to concepts and ideas that I had never heard of before. I had great professors, like James Sturm, who went on to found the Center For Cartoon Studies, Bob Pendarvis, and Mark Kneece who were fantastic. Mostly, I enjoyed interacting with peers who treated cartooning as an art form and not a hobby, and this was the first time I ever had the opportunity to enjoy that sort of give-and-take and interaction. I learned so much about storytelling and the creative process from just talking to those guys and watching their own process. That interaction, and the friendships I forged in Savannah, were invaluable.
 
-Rather than employing the tongue-in-cheek tone of Afrodisiac or Black Dynamite, World of Hurt is very straightforward- it's a black action film on paper. Why'd you choose to do a straight blaxploitation comic, rather than updating it as others have?
Although I think that, sparingly, the tongue-in-cheek treatment of Blaxploitation can be a legitimate way to approach the film genre, but for the most part it seems to be the ONLY way that is ever used. I wanted to try something else. Also, I would put Afrodisiac and Black Dynamite in a slightly different category from films like Undercover Brother or I'm Gonna Git You Sucka or Greg Houston's graphic novel, Vatican Hustle
. In the first two you can not only see a familiarity with Blaxploitation, but a real understanding and reverence for it. These guys KNOW their subject, and the work is steeped in that knowledge. There are plenty of Easter eggs for Blaxploitation fans buried in the work, and those references are tweaked and subverted for comedic effect. For example, in "She Came From Venus," an 8-page Afrodisiac tale, Rugg references Godfrey Cambridge and Raymond St. Jacques' portrayals of Gravedigger Jones and Coffin Ed Johnson in Cotton Comes To Harlem, Calvin Lockhart, Robert DoQui in Coffy, and a classic Max Julien in The Mack and still delivers a heckuva story. That's reference and reverence. In works like Undercover Brother, the surface elements of Blaxploitation are skimmed for cheap laughs for people who know nothing about Blaxploitation other than some dim cultural memory of bellbottoms and pimps in giant hats and ermine capes.
Read the rest of this entry �