August 16th, 2007 Posted by Gavok
"I think the thing to do is produce the best material you can, and on a regular basis, so that your readers know you can produce on a deadline, no matter what. Yabs showed editors, I was told, that I could hit a new idea each week, in a different 'voice,' and maintain a certain level of quality. A ton of editors read it each week, and a bunch offered me a shot. All of which I turned down, but that's another story!"
— Gail Simone giving advice to Gavok
The other day I started cleaning my place, trying desperately to sort my DVDs, games and comics for the first time in about a year. There's a chair where I toss stuff I had just bought that had gotten so ridiculously cluttered that I discovered barely-read magazines from months back.
Having finally sorted out all my comic trades, it was shocking how many of them remain unread. Some don't really count because they're collections of stuff I've already read as issues, like All-Star Superman and the first two volumes of 52. The real deal stuff I stacked into one big pile, guarded by an unbeatable team.
Gentlemen… BEHOLD!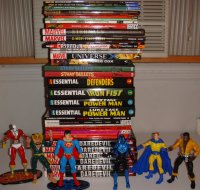 The Sentry has the power of a million exploding suns, which is why everything is so glossy. Really. That's why. Shut up.
I work at a bookstore and when I get paid, I use the option of having my check cashed on the spot. When that happens, I get high on my cash and want to spend immediately. This leads to too many comics and that neglected stack above. By admitting my problem, I hope I can finally push myself into making this stack lighter.
Here's the what's what of my far-too-tall tower. What are the books? Why did I buy them in the first place? If I bought them, why the hell haven't I read any of them? We'll start from the top and go down.