December 21st, 2012 Posted by david brothers
An ongoing series about my time playing Shin Megami Tensei: Devil Survivor Overclocked
, divided up according to the stages of the game. Once a week, I think, I'm going to hit a few big topics that have stuck in my head and then a lot of little ones. Fridays. I'm still working out the format.
This is like a Let's Play, but only I get to play and you're required by law to read it and like it.
1st day
Story So Far: black power, his dumb nerd friend, and his dumb girly-girl friend (but not his girlfriend!) are trapped within the Yamanote Circle. Demons have begun invading, and black power's cousin Naoya just ever-so-happened to not only give our threesome the devices they need to battle the demons, but also didn't bother to let them know that Hell on Earth was coming. What a jerk, right?
The Defense Sciences Office spent the night in a park last night, lost and lonely.
Right now: Today is 1st day, the beginning of the end, and it's time for the Demonic Schoolfriends Cipher to figure out exactly what's going on, or maybe just escape. Escape is my main guess actually.
black power Status:
Level: 12
HP: 114
MP: 42
St: 9
Ma: 5
Vi: 7
Ag: 7
Move: 4
Speed: 50
Skills: Agi, Zan, Hero Aid, Mana Bonus, Leader Soul
Demon 1: Pixie (Fairy)
Level: 9
HP: 75
MP: 58
St: 4
Ma: 10
Vi: 6
Ag: 5
Skills: Dia, Zio, Charm
Demon 2: Waira (Wilder)
Level: 10
HP: 106
MP: 47
St: 9
Ma: 9
Vi: 5
Ag: 6
Skills: Zan, Dia, Hero Aid, Life Bonus, Devil Speed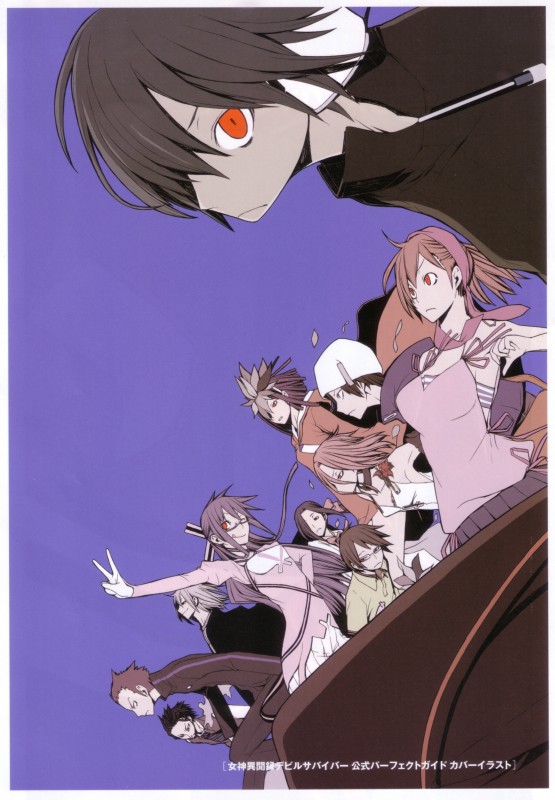 Battle Anybody I Don't Care: I was tricked! This is only barely a strategy RPG. It's a meta-strategy RPG that is secretly actually an old, old, old school RPG.
Here's the deal. You dont walk around on your own. You select locations from a menu. After selecting a location, a sub-menu pops up that gives you a chance to talk to your party members, gab with other people, or take a look around. In certain situations, you can get into a fight.
The fight certainly looks like a strategy RPG should. You have a grid you must follow when moving, your move stat determines how far you can move, and you have a selection of attacks you can use before or after going into battle. When you choose Attack, however, Dead Star Orion betrays you.
The actual battle system is the oldest of old school. The kind that existed before Final Fantasy 7, you know? RPGs with a hand crank and a muzzle loader. Enemy characters don't animate at all. They just sit there, in all their sprite-based glory, and sometimes shake or turn colors as you battle them. You don't see your squad at all. Selecting a command from a menu results in a minor animation that is overlaid onto the enemy sprite. After your turn is up, you return to the SRPG portion of things, ready to react again.
You could make a case for this giving you fine control over the details of SRPG battles, but I'm going to reject your case in favor of a different one: this is boring. The boringest. Questionable design choices aside — I want to make a "too much booby in the butt" joke here as a twist on Trina's "too much booty in the butt" but I can't make it work without sounding stupid — Dark Skies Onlimited is a pretty solid looking game. The sprites are cute, like Paul Robertson's work on Scott Pilgrim, but RPGs are the absolute last genre that needs to be simplified visually. They're already geared around math and intricate relationships between elements — why would you make that more boring? Where's the flash?
Time: Part of David Stop Obscuring is managing your time. You get an email each morning with a list of horrible things that are going to happen to you or others. Since you're plucky high schoolers, you're going to go out and save people because… that is what children do? I'm not entirely clear on why we're doing any of this instead of panicking, but I figure that's just the plot.
Anyway, I'm curious to see if I can miss out on things. Will characters leave areas if you don't visit them fast enough? It doesn't seem like it thus far, but I'm sure it'll happen eventually. Maybe I'll have to choose between Yoohoo and Atsuwrong at the end of the game?
Devil Auction: There's basically eBay for demons. After you fight them, you can bid on them. It works about as you'd expect.
At one point, though, I beat up a demon and he was all, "aughghg i guess i have to have a contract now." That was weird, because why would he be surprised that humans and demons have contracts when the Devil Auction exists? Is it some kind of underground slavetrading ring? It doesn't sound like it, though most of the demons are so dumb that it probably isn't legal for them to enter into any contracts. I swear this tree-based demon I have is senile.
black power is a lie: This was the chapter where I realized that if you pick the "wrong" answer in a dialogue box, people will tell you what you already know and generally be a real jerk about things. So, while I'm still refining the character, I try to play black power as being the most honest and forthright guy in the team. He'll tell the truth, even when it seems like a bad decision, just so that no one else will beat him to the punch and make me sit through dialogue that tells me things I already know. Call it antagonistic altruism.
It's weird, though. It feels like admitting the truth in certain situations, and by that I specifically mean telling my friends that there is no exit from the Yamanote Circle, is a bad decision. There's been nothing in the game to suggest that saying so would bring the team down, but it would, wouldn't it? So black power lies, just a little, but always in the service of hope.
Yoohoo: Yuzu talks about her sweaty body like, all the time. I know this is a fetish thing in real life, dirty girls or whatever, but is this a nod to fetishists or some kind of weird attempt at verisimilitude? "All I want is a shower to wash all this sticky sweat off my body and now you're imagining me naked," says the teenager, ad nauseam. It's not weird to want a shower when you can't shower, but it is weird that she says it so often. Does that make sense? It feels significant, but it isn't, I don't think.
つづく: "Oh no! We're in the exact same situation we were in last night! How will we get out of this one, Yoohoo?"
"I'm so sweatyyyyyy, and it's just pouring in rivers and rivers down my supple–"
"NEXT TIME, on Devil Survivor Overblogged: Silent Heroes for Quiet Storms! We're gonna survive this, I promise!"