September 3rd, 2010 Posted by Gavok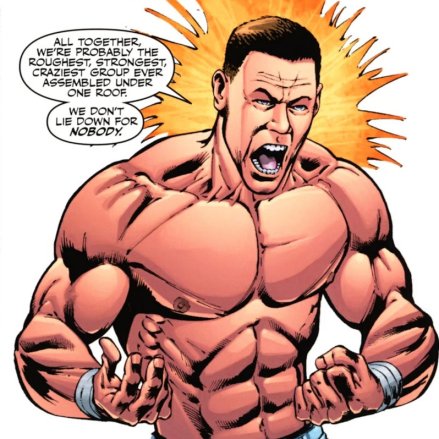 WWE Heroes is not a good comic book. It really isn't. It's stupid, silly, incompetent and can't be described with a straight face.
Yet I find myself buying it every month and it's always the very first comic that I read. Probably because of those exact reasons. It's enjoyably ridiculous and unlike most bad comics, I feel like I'm getting my money's worth without being at the expense of another comic or the characters within. It's ultimately a harmless series. It isn't going to ruin characters for anyone or mess with continuity. It isn't like that comic where the paragon of virtue is walking across the country and acting like a total douchebag to everyone he passes. It isn't killing a bunch of beloved characters and negatively screwing with so many status quos for the sake of one writer's hackneyed vision. It's a wrestling comic and wrestling comics are inherently dumb. I say this as both a fan of comics and wrestling. When you mix the two together, you're asking for trouble.
Not that it's impossible to write a good comic with a wrestling license. The issue of World Championship Wrestling where Sting gave a kid the spirit to fight cancer was overall pretty decent, as was Dwayne McDuffie's Ultimate Warrior story in WWF Battlemania. It's just that if you're saddled with a project like this, you have to know your chances of success and go to town. Writer Keith Champagne is no dummy. The guy has written some fine stuff over the years, such as Ghostbusters: The Other Side and his short run on Green Lantern Corps. His miniseries Countdown: Arena was undoubtedly terrible, but you'd be hard pressed to blame it on him when DC editorial set him up to fail. When given the WWE license, the guy obviously decided to have fun with it and be as outlandish as possible. Who can really blame him?
So far there are six issues out, getting us through the first arc. The art is by Andy Smith, a longtime veteran of the comics game. This creative team has worked together several times before, including an issue of DC's World War III miniseries. There must be some kind of WCW joke I can make in there… eh, fuck it. Oh, they also collaborated on Dean Koontz's Nevermore. There must be some kind of Raven joke I can make in there… eh, fuck that too. Hey, they also teamed up to do the miniseries Armor X! There must be some kind of… uh… shit, I got nothing. Moving on.
Before I get to the first issue, I should mention issue #0. #0 was released as a free iPhone app and my memory of it is fuzzy due to reading it off my buddy's iPhone a long while ago. Here's a promotional video that shows the first few panels.
WILL BIG SHOW STRETCH? WHY IS JERICHO WEARING BROKEN CHAINS ON HIS TIGHTS? IS IT A GOOD IDEA TO DO A HEEL VS. HEEL MATCH AT A "TRIBUTE FOR THE TROOPS" SHOW? Download the app and find out!