February 19th, 2011 Posted by Gavok
The Deadpoolsplosion is dying down and most others would say, "It's about damn time." Merc with a Mouth is long gone, Team-Up and Deadpool Corps are about to bite the dust and Deadpool MAX has been turned from an ongoing to a limited series. To compound my sadness, writer of the core series Daniel Way has lost his razzle dazzle and doesn't appear certain of what he even wants to write. Still, that's a ton of Deadpool in the last three years, not even counting the various guest appearances, miniseries and specials that have gone to his name.
And yet, despite all of that, it's a scene in a team comic where he only appears for four pages that speaks to me as his best and truest moment of the Deadpoolsplosion. It comes in Uncanny X-Force #5, written by Rick Remender and drawn by Esad Ribic.
I always thought Deadpool would work better in a team setting. Years ago, people suggested that Peter David put Deadpool in X-Factor, mostly for the sake of being in a comic with Siryn again and I agreed with it. I didn't think that Deadpool would drive up the wackiness level of the comic, but that the comic would ground Deadpool just a little bit more. He's spent so much time playing off himself that there doesn't seem to be much development left for him. That's why Daniel Way's written the same "Deadpool wants to be a hero" plotline that Joe Kelly and Fabian Nicieza have written before, only to write himself into a corner and make him purely a mercenary again.
X-Force is the perfect team for Deadpool. Naturally, you have a rich guy who will pay him to keep with Deadpool's mercenary motivation. The team, especially with Deadpool, acts as a tribute to the dearly departed Cable. Then there's Deadpool's comedic and at times pitiful dream to be recognized as a member of the X-Men. I don't know if they planned it, but Way's recent storyline where Deadpool momentarily joins the X-Men and sacrifices his own reputation to make them look better works as a perfect prelude/explanation for what he's doing here.
For those not up to date, the first four issues of Uncanny X-Force have featured the team of Wolverine, Archangel, Psylocke, Fantomex and Deadpool going to the moon in order to kill the recently-resurrected Apocalypse. While the X-Men members do this for the sake of saving mutantkind the headache of a fully-realized Apocalypse attack, Fantomex and Deadpool openly tell each other that they're only there for the money.
The big twist is that Apocalypse isn't like how we know him. He's only a child, yet to grow up. His followers have been brainwashing him to be their leader, even though he doesn't want to kill the weak. It's a fantastic, action-packed story arc that ends with the team cornering the young Apocalypse and arguing over whether or not they should kill him. Wolverine decides that they'll take him in and raise him right, since he's only a kid. Arguments and scuffles ensue, only to be silenced when Fantomex coldly shoots the boy in the head. During all of this, Deadpool has been physically unable to speak, so we don't know his take on this situation. He's not the only one silent as the ride back to Earth is filled with awkward wordlessness.
That brings us to the issue at hand. Specifically, this scene.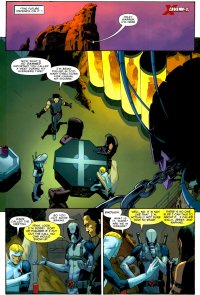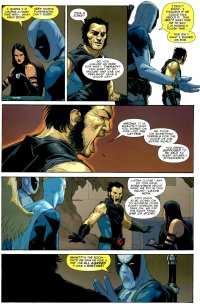 There are four reasons this scene rings true to me.