March 3rd, 2008 Posted by david brothers
Warfare's inevitable, Rebel I hold several government official
Issue thirty-eight specials, that step through
Like Nat Turner create a spectacle
I may die in the scuffle, but I'm takin' forty devils
–Inspectah Deck, "The City"
I watch my small home burn to the ground. My wife and daughter's screams stopped over half an hour ago. I should get up, but I can't find the reason or the strength. My world has been destroyed, and the cruelty is that I have survived it.
After a long time, I find a reason to move. I can't say it's a good reason, or a Christian reason… but it's reason enough.
I head into the direction of the white triangles.
I head into the dark.
–John Henry, New Frontier
Steel Drivin' Man
I was really big into American folk tales for a while, real or fictional. Paul Bunyan, John Henry, George Washington Carver, and so on. They were infinitely interesting, but one that kept catching my eye sounded like fiction, despite the fact that it actually happened.
Nat, commonly called Nat Turner, (October 2, 1800 – November 11, 1831) was an American slave whose slave rebellion in Southampton County, Virginia, was the most remarkable instance of black resistance to enslavement in the antebellum southern United States. His methodical slaughter of white civilians during the uprising makes his legacy controversial, but he is still considered by many to be a heroic figure of black resistance to oppression. At birth he was not given a surname, but was recorded solely by his given name, Nat. In accordance with a common practice, he was often called by the surname of his owner, Samuel Turner.
Nat Turner is an icon, and kind of a hard one to explain my interest in. I mean, his mission was to straight up kill white people and free slaves. "Hey guys, I heard this awesome story about this dude named Nat. He helped kill like fifty white people and–"
Yeah, that's about as far as you get before the funny looks start, huh?
I guess if I had to nail it down, it'd be the fact that Nat was up against a wall in an untenable position and didn't just sit there– he reacted. He made a choice. One thing that pretty much every black kid I knew would do was brag about how if they were alive back in slave days, they'd fight back, kill the master, and take over the plantation. You'd think you were looking at an entire generation made up of Huey Newtons and Malcolm X's the way we used to talk.
I'm older now, and to be honest, I'm not sure how I would react. Would I stand tall? Would I bend? Heaven forbid, would I buckle and break? I know which one I'd hope to do, but I can't say for sure.
John Henry in Darwyn Cooke's New Frontier is a character I love dearly, and it was very cool to hear Cooke say that it was some of his favorite writing and best scenes in the book. Including him in New Frontier greatly increased my enjoyment of the book and, in a way, summarized a lot of the time going up to the civil rights struggle. There have always been people trying to do good– however, they were ahead of their time. So far ahead of their time that they ended up dead.
One connection that I happened upon, that may or may not have been intentional, is the one between Nat Turner, the legendary John Henry, and the New Frontier John Henry. New Frontier John Henry's real name was John Wilson. He seemed to have been a well-established dude, with a wife and daughter, before he "died." When he came back from the dead, he became a mix of two black folk heroes: Nat Turner and John Henry.
The iconography is John Henry with a twist. The hammers are John Henry, but the hood and noose are new. The hood and noose are bold statements. "You can't kill me," the noose says. "You tried, you failed, and here I am again." The hood has a similar message. "I am no one. I am everyone." It turns John Henry into an idea.
The actions, though? Those are a more focused Nat Turner. Instead of indiscriminate murder, he's going after the people who do wrong. He's going after the problem. He's taking a stand. He's standing tall. He's striking back. It's all he has left to live for.
It's a mix that really speaks to me, I guess. Two of my favorite heroes in one person and beautifully illustrated. I feel like the John Henry sequence is a vital portion of the book, if not the best portion, and was pretty brave to include in the final product. I'm curious as to whether or not DC editorial had any qualms, but at the same time? It went through. That's the important part.
Wondercon was a trip and a half for me. I had GDC on Monday through Friday, and then Wondercon on Friday through Sunday. I did a lot, saw a lot, found a lot. I'm still recovering and my sleep schedule is awful. However, it was also worth it because I bought the best page of art from New Frontier.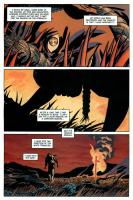 I win.