January 19th, 2012 Posted by guest article
Gavok note: Back in 2010, Fletcher "Syrg" Arnett decided to review just about every DC Elseworlds title he could get through. Due to personal scheduling issues, he had to take a break, but now he's back in the saddle and ready to go. Glad to have him back.
I could go on about how awful I am with deadlines or make excuses, but nobody cares, you're here for the alternate realities. So how about a string of some really good Batman-centric books, eh?
JSA: The Liberty File
Written by:
Dan Jolley & Tony Harris
Art by:
Tony Harris & Ray Snyder
Focuses on:
Batman narrating, various JSA reimaginings
Self-contained/Multiple books:
Multiple books (one sequel)
Published in:
2000
Central premise:
Bruce Wayne, "The Bat", is an Allied spy trying to follow the trail of a new weapon the Nazis have developed. Two partners are assigned to the lone maverick due to the case's importance: Rex "The Clock" Tyler, and Charles "The Owl" McNider.
Martian Manhunter Out of Fucking Nowhere?
Quite.
The Liberty File is easily in my favorite Elseworlds (thus far? probably of the entire run) because it manages to pull off well a concept that gets screwed up often: a harder Batman. But it makes sense. This is a man who's wanted by every enemy that knows of him in a wartime era, while behind enemy lines. He has reason to be paranoid. Working alone is what keeps him safest.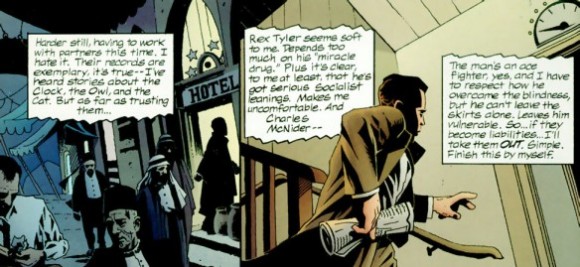 There's also the fact that this is a Bruce Wayne who knows the value of a gun. They've saved his life in the field, and, well… Bruce himself sums it up at one point:
Despite that, the book never dips into anything ill-advised in his narration (which we later discover is being written in an actual journal he burns the pages from after writing, from one of the army psych team's recommendation). It has a bit of a pulp novel feel in places, honestly, and the tone is consistently solid. Anyhow, I should actually discuss the story itself here.