August 24th, 2009 Posted by Gavok
After sixteen issues, Luke Cage had come to realize that with a title like Hero for Hire, nobody would ever take him seriously. He was rarely mentioned in the press due to the feeling that he was just a mercenary. He took that to mean that he needed a new name and stat. He considered calling himself "Ace of Spades", but decided it was too ethnic. During a team-up with Iron Man, a villain asked Cage, "But how? This ship's construction makes what you've done impossible!"
"Just chalk it up to black power, man."
Then he got distracted so much by how right on track he was with a new nickname that he got punched in the ribs by a villain in a robot suit.
As of that issue, the title changed to reflect his newfound name. It also led to a fantastic issue where the villain named Power Man (currently Atlas) took exception to this infringement and fought Cage in a movie theater. This ranks up there with #9, the Cage vs. Dr. Doom issue, as one of the best pieces of the series.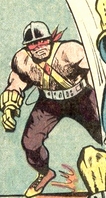 STEEPLEJACK
First Appearance: Luke Cage, Power Man #18
Threat Level: 2
Bizarreness: 4
Lasting Ability: 1
Jake Mallard and his two brothers were construction workers working for Maxwell Plumm. Plumm liked to cut corners whenever possible and the shoddy materials led to the deaths of Jake's brothers. Jake swore vengeance and spent the next few years building some construction-based weaponry for his own construction-based villain gimmick of Steeplejack.